EDIT BY CORGIPAWS:
I totally spaced getting the thread up this early! Glad you made one, wolfsnaps! Just a reminder to all those who participated: You ARE required to at least post here that you GOT your package AS SOON AS it comes in the mail so the person that bought for you isn't left hanging not knowing if you got their gifts or not. Pictures when you open your goodies are greatly appreciated as well. I hope everyone enjoys the exchange this year! Happy Holidays, DFC!

There ARE some packages that have not shipped yet, but the shipper has at least checked in, so if yours doesn't come this week, rest assured NO ONE goes without and you will get something!

-Linsey
I am such a nerd. I got my secret santa today and could NOT WAIT TO SHARE! Khan was my Secret Santa and can I just say, you outdid yourself, lady! LOL WOW. Thank you so much!
I came home with groceries and saw a box on my front step and was so excited. LOL. But not nearly as excited as the dogs got after I opened it! Holy Moly!
As I started pulling toys out of the box, Sarge decided that he wanted this one for sure...I didn't even see him take it (as you can see, it still has the packaging attached!)
No worries, we took it off!
I knew Sarge would gravitate towards stuffed animals....and as such, this was all but expected of him to do: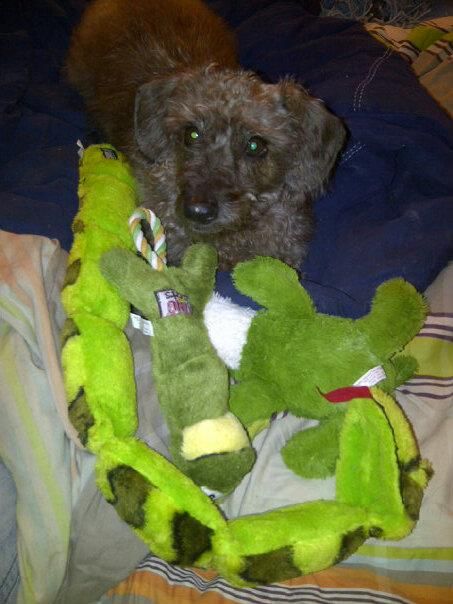 No worries though, we share in this house:
I think Hunter was the most excited. I apologize for the blurry pics but he was ALL OVER THE PLACE with these new toys!
He especially loved this ball within a ball toy. He practically just plays with himself with it! He kicks it around, smashes his face into it, and acts like a real crazy dog. He loves it. Again, THANK YOU THANK YOU THANK YOU!
Dozer takes time to warm up to toys. I don't have video capability right now but this is what he does. He takes his preferred toy, runs through the yard, and shakes it from side to side. The more he likes it, the more he shakes. HE took to this holee roller pretty quickly.
(he is fat. I know. We are working on it.)
Not shown is the babble ball. It is a plastic ball that makes funny sounds. I am on my way to work so their play session was cut short. Plus, I will surprise them with that another day. So much excitement today! WOW!